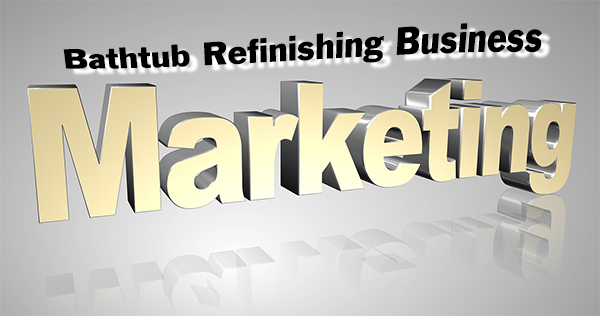 Now that you have set up your bathtub refinishing business as outlined in the article Roadmap to Starting a Bathtub Refinishing Service Business you are ready to go out and market and get some work! Below are some beginning steps to get the ball rolling.
Step 1: Build a website. In this day and age, a website is important. Hardly anybody nowadays looks to the phonebooks to find a bathtub resurfacing service. Even the baby boomers that weren't as technically savvy as generation x and millennials are using the web to find something they need. Everyone is turning to the web for information and this includes those looking for local bathtub refinishers. So, the first thing you need to do is have a website built.
This is an area that you really want to take some time and do right because image is everything nowadays. Unless you are really good at web design, leave this task to a professional. However, I do want to point out one particular bit of info that is important, and that is to put your local, physical address on every page! If you don't want your personal address publicized, get a local address from a UPS store.
Some may argue that it makes no difference but putting a real-world, verifiable address on your website increases its chances of looking more algorithmically trustworthy to Google. The effects may not be immediate, but in my opinion, these are forward-looking steps to give your website a bonus other local bathtub refinishers may not be getting.
Step 2: Start building local citations. What are citations? Citations are mentions of your bathtub resurfacing business name and address on other web pages and are a key component of the ranking algorithms in Google and Bing. The greater number of citations means you will be more likely to rank higher than a bathtub resurfacing business with few or no citations. Refer to the following page for a definitive list of places to add your business: http://www.localvisibilitysystem.com/definitive-local-search-citations/. Make sure when adding your business to use the same address that is on your website.
When you are done adding your business to as many sites as possible, add your business to Google My Business and Bing Places. This will help your business rank better in the local bathtub refinishers search results.
Step 3: Dress professional. Look professional and wear logoed apparel.
Step 4: Wrap your vehicle. This is a great form of advertisement! Works better than lawn signs.
Step 5: Start advertising on Craigslist & Backpage. Craigslist and Backpage are great websites for getting work right away; however, they can be competitive. In other words, if you are in a competitive area for bathtub resurfacing services, your competition can bury your ads because every time someone posts an ad, yours get bumped down. The key to surviving on these sites is to have multiple Craigslist & Backpage accounts. The way this works is this: for each Craigslist account, you can post 3 ads. Your ads can run three days then you can renew them with the click of a button. You will want to post ads twice a day, three in the morning and three in the afternoon which means you will need at a minimum two Craigslist accounts. You will want to do this Monday, Tuesday and Wednesday so you should have 6 Craigslist accounts. If you do this, you will likely be at the forefront of every Craigslist search and you should begin to get some calls. Another thing you will want to do in your ads is to include lots of keywords at the very bottom of your ads so people can find you. Example:​ "bathtub refinishing, bathtub reglazing, bathtub resurfacing, tile refinishing & so on".​ Be sure to include any word you think someone might use to find your service or any keyword related to bath & kitchen remodeling.
Step 6: Advertise in the local newspaper. This form of advertisement is very low cost and effective. Place an ad for your bathtub resurfacing services in the classified section of your local newspaper. Also, if available, place ads in local magazines like Pennysaver or Hotsheet. These work great too.
Step 7: Hit the road. Now it's time to go after property managers & realtors. Pick at least three locations and be sure to do a little recon before you go so you know who to the decision maker is and whether they are there or not (you don't want to do dry runs). Here is a great tactic that is sure to make an impression: First, make yourself some bathtub resurfacing marketing materials that you can hand out. Be sure to include in these folders a business card, flier, price list, reference letter (if possible), a personal letter telling them who you are and what you can offer them, and a before and after photo of a bathtub, tile and countertop. Next, go to Starbucks and buy three $10 gift cards. Now hit the road! When you are done meeting your target and you have had a good conversation, give them a gift card for their time. The psychology behind this is this: How many Venti Lattes can one buy with $10? Two! How many sips can one get from a venti latte? I don't know but quite a few! Who are they going to think of every time they take a sip? Well, you! Now you are embedded into their mind and when the time comes where they need a service you offer, hopefully they think of you.
Conclusion
These seven steps will help you engage and build relationships for your bathtub resurfacing business, and hopefully keep you top-of-mind. Just remember, it's about the time and effort you put into it; and, if you keep this in mind, you will be well on your way to success.
For more information on ways to improve your bathtub resurfacing marketing strategies, contact us here at Topkote by calling 1-888-867-5683.