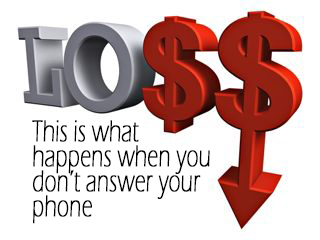 Know what happens when you don't answer your phone? You lose!
Here's the deal... most of the people looking to have a tub refinished are doing so compulsively. They look at their tub and realize it looks horrible and they can't get it clean anymore. They hear from a friend that it can be refinished so, they get online and search for someone who refinishes tubs.
Here is the scenario
The potential customer calls you and your phone goes to voicemail. Now, they are going to call someone else and if they answer the phone it's possible you are going to lose out on the job!
Here's a little story that happened to me when I was a refinisher:
I booked a bathtub refinishing job many years ago and the customer told me the reason I got the job was because I answered the phone! This customer called three other refinishers in the area and two out of those three went to voicemail and the third went to an answering service. This customer did not like the answering service because they could not answer basic questions. This customer was hot to get the job done and wanted to book it right away. I answered the phone and got the job.
Moral of the story
Answer the phone... If you can't, hire someone to answer the phone that can answer basic bathtub refinishing sales questions. If you don't, it's your loss and someone else is going to get the job.