Refinishing Startup Kits for Your Business
Bathtub, tile, and countertop refinishing businesses can be a lucrative way to earn a living and work for yourself. The startup costs are very low compared to traditional business models and you can often recoup initial costs very quickly.
Whether you've just started your refinishing business or you've been refinishing for years, it's important to save time and money any way that makes sense. One of the best ways to save a significant amount of money for your refinishing business is to order products in bundles and kits. Similar to purchasing products in bulk, our refinishing kits offer all of the products and supplies you need for specific jobs including bathtub refinishing, multispec application, and leaky spout kits.
Safety is a top priority for refinishers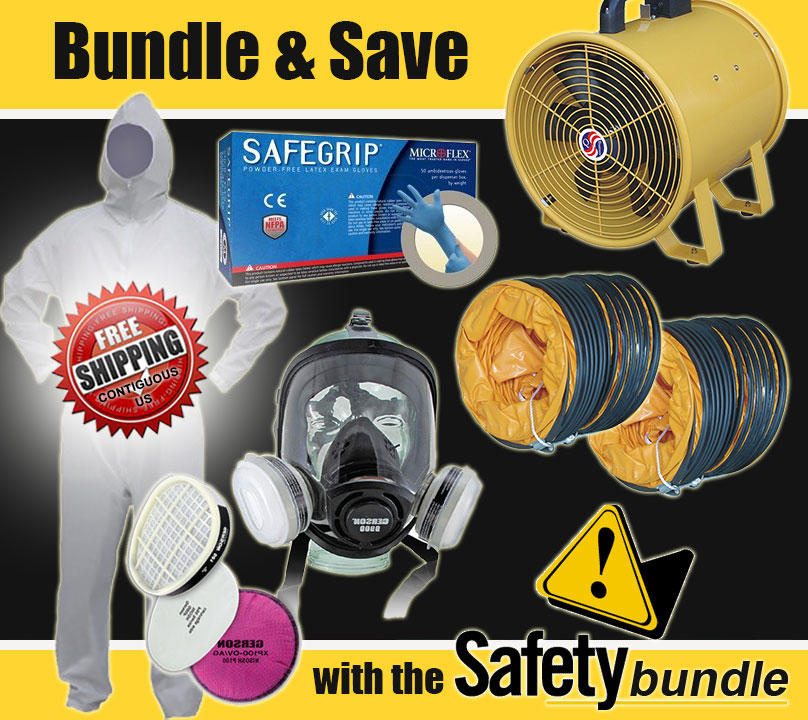 Refinishing Safety Kit
When it comes to bathtub refinishing, safety needs to be a top priority. Because refinishing businesses are constantly working with chemicals, the safety bundle is a must have. The refinishing safety kit includes an exhaust blower, exhaust duct, respiratory face kit, a nylon spray suite and solvent resistant latex gloves. Stay safe with the bathtub, countertop, and tile refinishing safety kit.
Masks to protect against chemicals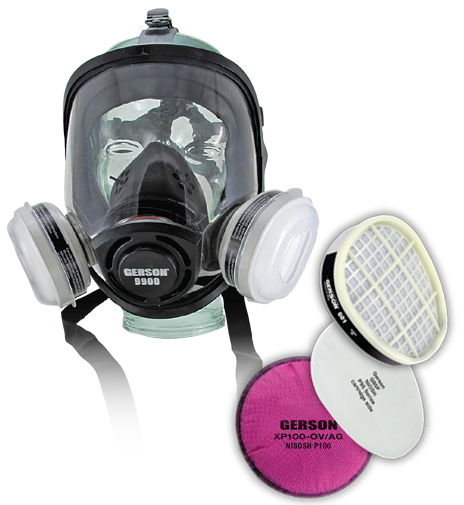 Gerson Full Face Respirator Kit
Respirators are essential when refinishing any surface. Chemicals can be harmful to inhale and often times there is no proper ventilation system when refinishing bathtubs, countertops, and tile. The Gerson Respirator Kit offers a one size fits all mask, vapor cartridges, protective len peel-off, and a pair of filter retainers. This kit has everything you need to ensure you are protected against chemical vapors. Also try the Medium Full Face Respirator Kit.
Fix leaks quickly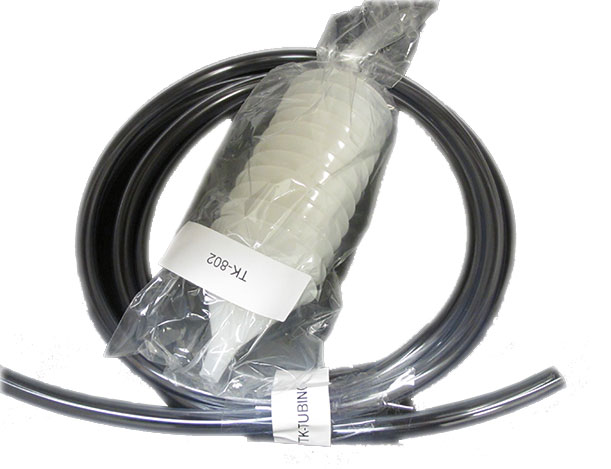 Leaky Spout Kit
For bathtub refinishers, leaky spouts can significantly impact the time it takes to finish a job. Make sure that you are prepared when leaks happen. The Leaky Spout Kit has 12 funnels and 10 fee of funnel tubing, allowing you to channel leaks back into the overflow drain. The kit ensures that you have plenty of funnels and tubing to last at least 12 different refinishing jobs.
Stone finish without the cost
Multispec Kit
Get a smooth stone like finish without the outrageous cost of stone, plus save even more by bundling. The Multipec kit includes multispec paint, primers, clear coats, and catalyst that will give countertops a smooth, stone look. When you bundle multispec application products, you know that you're getting just the right amount of each product to get all of your projects done. Buy three kits and get free shipping!
Start your refinishing business with savings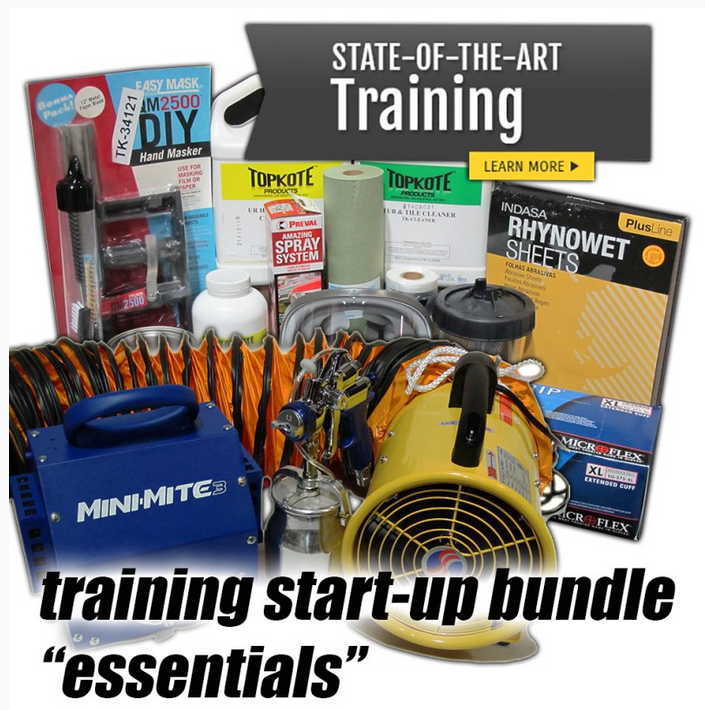 Refinishing Training Startup Kit
If you are new to the refinishing industry and need to get started, the bathtub refinishing training startup kit is essential. With the training startup kit, you'll receive all of the products and safety supplies you need to refinish up to 12 bathtubs and 4 countertops. Not only do you get all of the supplies to start your business, you will get our two day training course for free, including hotel accommodations. The refinishing training startup kit saves you over $600 towards the cost of starting your business.
One time refinishing kit deal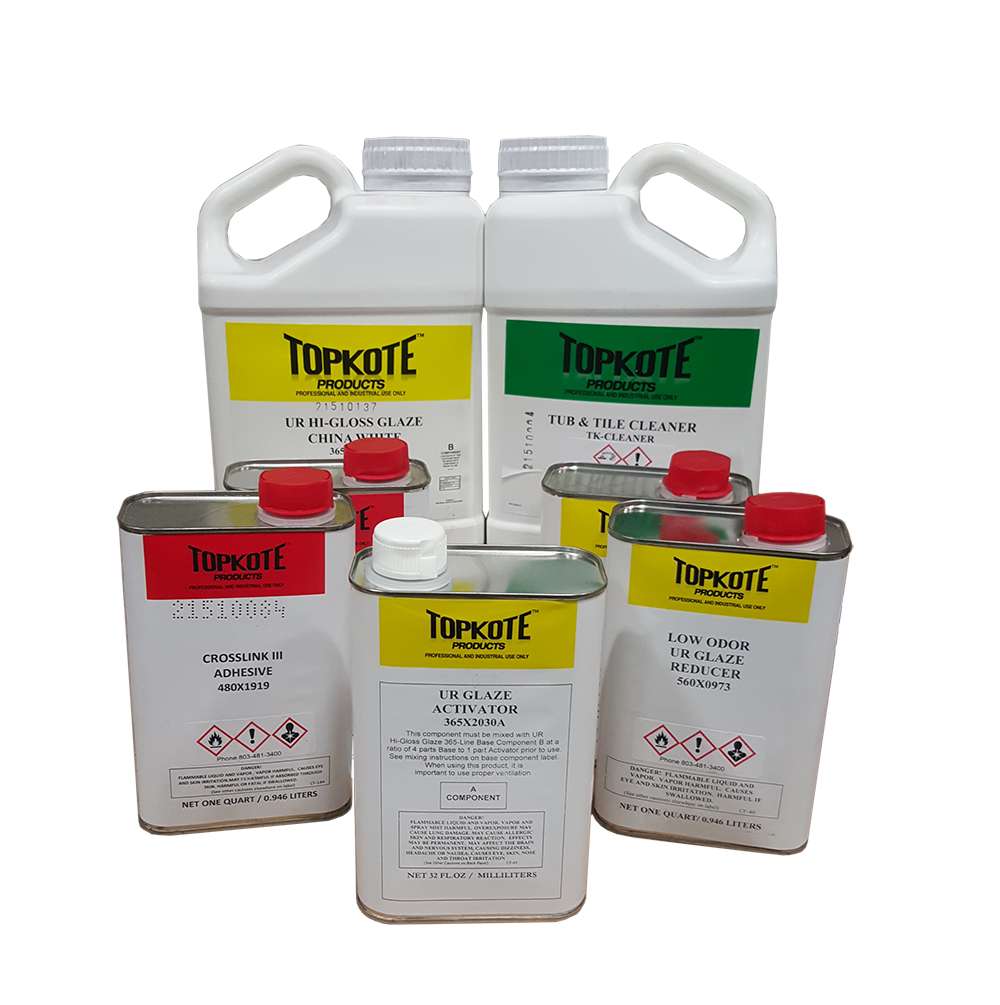 Bathtub and Tile Refinishing Startup Kit
If you are launching your new refinishing business or you're new to Topkote, we offer a huge, one time startup kit for bathtub and tile projects. The Bathtub and Tile Refinishing Startup Kit includes cleaner, UR Glaze, UR activator, UR Reducer, and Crosslink II Adhesive. All of these supplies are enough to finish up to 12 bathtubs and get your business off the ground.
Refinishing kits to help your business succeed
Whether you're a seasoned refinisher with a successful business or you're just starting out, Topkote offers refinishing kits to fit your business needs. Our goal is to provide you with the best products on the market at the lowest price possible, putting more money back in your pocket.