Home Improvement and Refinishing Business Tips
Home improvement and updates can be expensive and time consuming. Topkote wants to give you tips on how to update your home and make improvements that are both effective and affordable. 
For those that are ready to make home improvement a career, start your own bathtub and countertop refinishing business. Get important information on how to start your own business and sustain success. For more information on Topkote's refinishing training, check out our Information Center resources.
---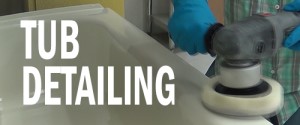 Published on 01/23/18
Learn how to detail a tub after refinishing.
read more

Published on 01/09/18
Blending a chip repair is not rocket science and you will need nothing more than a toolbox full of repair materials, a drop cloth, extension cord and Topkote's Fade-In Edge Blender Blending Solvent.
read more
---