Helpful Décor Ideas to Beautify Your Bathroom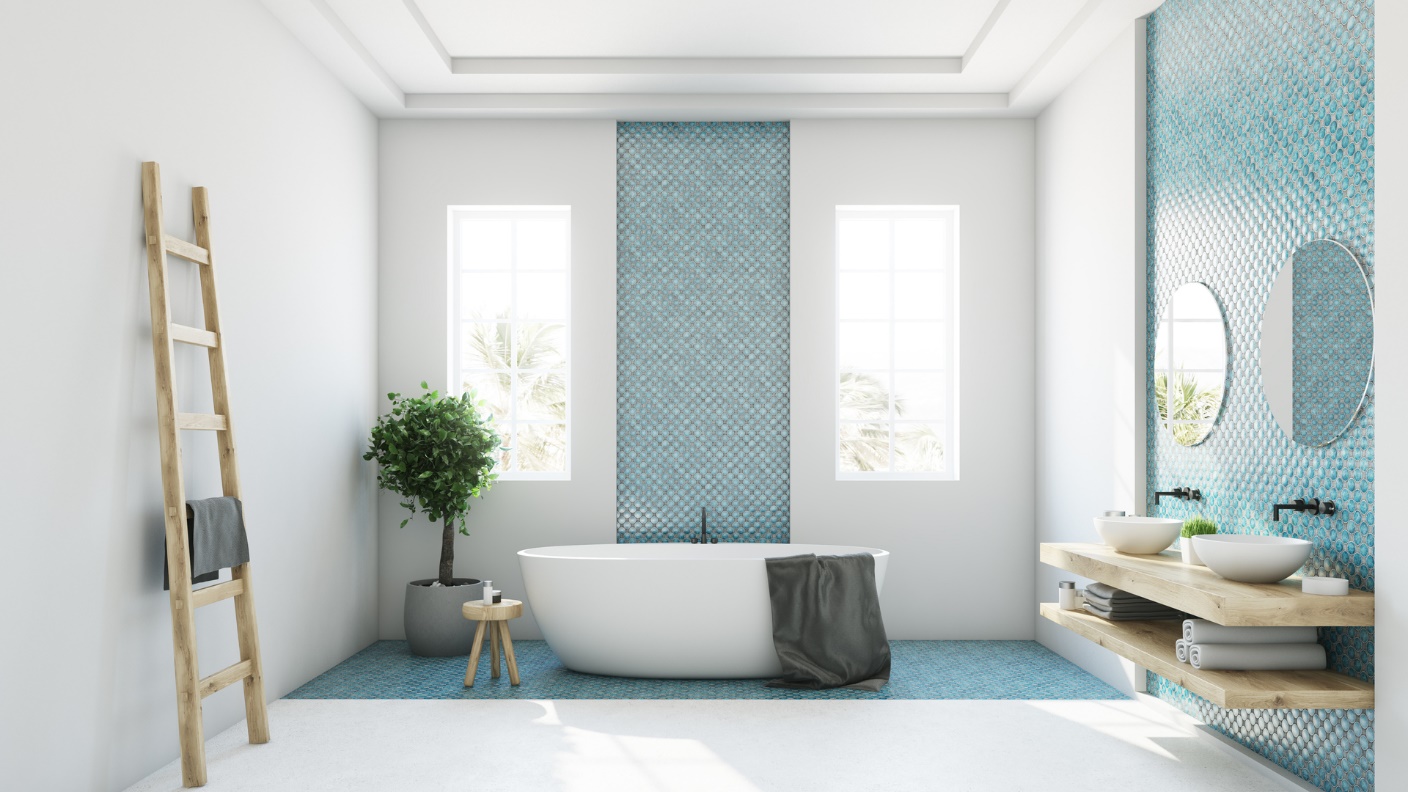 The bathroom may not be the heart of the home, but it sure sees a lot of action. Your restroom is a haven of rest after a hard day's work. It's the place you go when you need to get away and relax or simply do your business. The experience of using your bathroom should be one of serenity and enjoyment. If you're bathroom isn't exactly speaking anyone's language, it's time to consider some décor ideas that will turn it around. Read on to discover helpful décor ideas to beautify your bathroom.
Simple Colors
When you're choosing colors for your bathroom walls, stick to the basics. Colors that are neutral, light, and pale do a mighty fine job of making a big statement of rest and relaxation. These colors create a settling atmosphere and add a cooling effect to the room. Colors like light grays and blues go really well in bathroom spaces. These colors can be coupled with slight accents of darker tones.
Stay away from using any colors that are too bright or stark. Avoid orange, bright yellows, and neon shades at all costs. It will make the bathroom seem chaotic and unwelcoming.
Make sure that you take the necessary steps to fight off mold and mildew as the bathroom can be a moist area. Find paints that are labeled as water-resistant. These types of paints aren't permeated by moisture and hold up well for the long-haul. Or, you can buy additives that result in waterproofing your wall paint. Check out the options at your local paint or home store and ask for assistance to find the right water-resistant choice.
Beautiful Countertops
There are several different choices of countertop material that you can use in your bathroom but two of the most elegant and appealing are marble and granite. Marble is usually lighter in color and has gray marbling lines throughout the slab. Granite can come in many shades and has more of a speckled look.
Both are great choices that will make a statement and instantly beautify your bathroom, but granite is the more affordable option. The cost expectations of granite may vary but typically granite starts at about $35 per square foot and the most expensive varieties can extend far beyond $100 per square foot. There are several exotic varieties of granite that you can install in your bathroom to highlight your countertops, but they cost much more.
Marble and granite countertops need to be properly maintained on the regular. If you already have natural stone counters, it's important to refinish your counters each year with a fresh coat of sealant. Refinishing your countertop is a necessary task if you want to keep them looking shiny and new. To care for your natural stone countertops, make sure that you wipe and clean them regularly to avoid any staining, discoloration, or scratches.
Right Lighting
Choosing the right lighting for your bathroom is the single most transformative décor staple. The first place to start is to install more windows, larger windows, or clear any cabinetry or heavy shades that may be blocking out light. Windows are a natural way to brighten your bathroom. Windows with white trims also help to create more light and brightness.
The lights fixtures in your bathroom also play a role in the beauty of your bathroom. Go for light fixtures that don't completely encase the bulb and leave some of the parts of the bulb exposed. This will allow more light to reflect around the room.
Speaking of reflecting around the room, adding large mirrors in your bathroom helps to reflect the light. Mirrors in your bathroom will reflect the light from your window and the light from your light bulbs. This will create the illusion of a larger bathroom.
New Fixtures and Furnishings
Installing new fixtures and furnishing is a sure-fire way to beautify your bathroom. Bathrooms can easily be bogged down by outdated cabinet handles, shower doors, faucets, and shower heads. Replace old furnishings with a matte finish material. Use touches of shiny accents like gold, brass, and silver.
Update the look of your fixtures and furnishings by going with simple shapes and lines. This will give your bathroom a modern vibe. To make your bathroom especially beautiful, consider installing see-through glass shower doors. If you're not brave enough, there are gradient varieties that can do their job and be an attractive touch to any bathroom space.
Go Green
Going green in your bathroom space isn't only environmentally-friendly, it's also a simple way to add touches of purity and beauty. With a green bathroom you can feel good about the beautiful and earth-conscious choices you've incorporated.
One of the easiest ways to go green is to add some plants to your bathroom. Plants are a natural way of purifying the air. Their green colors add the perfect outdoor look to give your bathroom a mood of peace and calm.
Installing light-dimmers is another green choice that can save you energy. Light dimmers help reduce your electric bill, but they also come with a modern appeal that will turn your bathroom into a contemporary haven.
Use materials in your bathroom that don't contain VOCs, or volatile organic compounds. There are plenty of choices that do not contain VOCs such as bamboo, recycled glass, ceramic, and many others. These materials are not only green, but are also stunning additions in countertops, walls tiles, or floor tiles.
Small Accents
With all of the clean lines, angles, and modern décor of a beautiful bathroom, accents are still necessary. Choose accents such as small rugs, plants, or candles that will add pops of color and interest. Keep it to a minimum. With just the right number of accents, you can add a welcoming element to your bathroom.
Make it Yours
Above all, make sure your bathroom stays true to your style. Incorporate touches of what you like in a bathroom. Beautifying your bathroom shouldn't just make the bathroom look great, it should make you feel and look beautiful too. Transforming your bathroom from drab to fab is closer than you think when you follow these helpful décor ideas to beautify your bathroom.